Where Customers Come First
Shubee
Walk Away With More Sales...
ShuBee: Shoe Covers with a "Citrus Scent"
Finally, shoe covers specifically designed for the the service industry. This fantastic marketing tool gives your customers peace of mind before the technician even enters the home. They can be slipped on in seconds to protect the carpet, tile or wood from dirt, mid and scuff marks. A better alternative to taking off your shoes, presenting a professional appearance that customers appreciate and remember. Available in colors to match your company uniforms or just to make sure your client sees them. Successful contractors agree, "ShuBee is a must have tool on every service call".
| | |
| --- | --- |
| | Available ShuBee Colors |
The Red Carpet Treatment
The ShuBee Red Carpet Treatment is designed specifically for carpets. Excellent protection from dirt and damage to your customer?s carpets. The super tough, self-adhesive polyethylene product is better than a drop cloth and will not slip or shift. Simply peel up the Red Carpet Treatment and keep your customer?s carpets as clean as when you started.
ShuBee Nitrile Gloves
Protect yourself with ShuBee Industrial Grade Gloves. Puncture-resistant nitrile gloves contain NO allergy causing latex proteins and are oil resistant to petroleum products.
ShuBee Latex Gloves
Keep your hands clean even on the dirtiest of jobs. ShuBee Latex gloves are thicker for increased durability and have a textured palm and fingers for better gripping.
ShuBee Thicksters
These high quality, super duty, industrial strength Thickster gloves give you the added protection you need. They are over 3 times thicker than standard latex gloves, an amazing 15 mils. The 11 inch beaded cuff goes further up the arm to provide additional protection. Lightly powdered
making them easy to put on. So durable you can re-use them. Available in Extra Large or Extra Extra Large.
ShuBee Ugly Gloves?
These gloves ain't pretty ? but they're built tough. ShuBee Ugly Gloves are made of PVC and are jersey lined for comfort. The fingers and palms are embedded with PVC chips to allow cables to rotate smoothly in your hands without damaging the glove. Comes with safety cuff or without. Choose from 12-inch length or safety cuff styles.
ShuBee Red Rug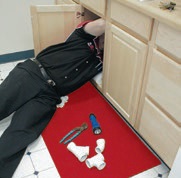 Your customer is sure to notice ShuBee Red Rugs. It?s the perfect place to put your tools and parts while working.The Red Rugs are absorbent up to ten times their weight. Re-use them on every job to be sure your customers take notice. Cost effective and highly visible to your customer.
Rubber-coated bottom prevents slipping.
Disposable Coveralls with Pockets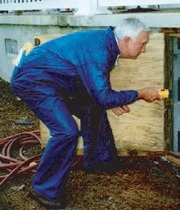 Keep your technicians looking fresh from call to call and increase sales.
Save money by eliminating torn and dirty uniforms
Stay-cool breathable material
Made durable to last
5 Pockets: 1 Shirt, 2 Front, 2 Back
Elastic wrist and waist band
Boot cut leg
ShuBee Citrus Scent
When you finish a job your customer expects it to be clean and smell good too! ShuBee?s aerosol spray has an all natural citrus aroma that will keep things smelling fresh long after the job?s been done.
Mini-Bristle Hand Cleaner
Mini-Bristle is an environmentally friendly hand cleaner that deep cleans skin pores instead of just the surface. Tiny plastic scrubbers will not rough up skin like other abrasive materials. Leaves hands smooth, clean and odor free. It?s antiseptic, but will not hurt in cuts or scratches. There are no petroleum solvents to dry skin. Convenient, economical and biodegradable. Will not build up in drainpipes like powders.
Mini-Bristle Dispenser
The Mini-Bristle Dispenser unit allows you to wall mount the hand cleaner for easy use. Just invert the half gallon size container, snap into place, punch an air hole and with one turn of the crank, you will have enough Mini-Bristle to clean mildly soiled hands.


Shubee Material Price List
Shoe Covers $116 a case /150 pairs less than .78cents each +S&H U.S.A.
Polyethylene Red Carpet $128 + S&H / 24 inch x 200 foot roll Polyethylene Red Carpet $164 +S&H / 36 inch x 200 foot roll
Shubee Ugly Gloves 12" Length $31.60 a pair +S&H U.S.A. Shubee Ugly Gloves with Safety Cuff $31.60 a pair +S&H U.S.A.
Shubee Nitrile Gloves Box of 100 $33.90 +S&H U.S.A.
Shubee Latex Gloves Box of 100 $27.50 +S&H U.S.A.
Shubee Thicksters box of 25 $43.70 +S&H U.S.A.
Shubee Red Rug Price each $53.00 +S&H U.S.A.
Disposable Coveralls with Pockets Case of 25 $210 +S&H U.S.A.
Shubee Citrus Scent 8oz bottle $33.90 +S&H U.S.A. Shubee Citrus Scent case 12 bottles $205 +S&H U.S.A.
Mini Bristle Hand Cleaner Half Gallon Tub $40.50 +S&H U.S.A. Mini Bristle Hand Cleaner Case 4 Tubs $125 +S&H U.S.A.
Mini Bristle Dispenser $61.90 +S&H U.S.A.
We take Visa, Master, Discover, American Express, Pay Pal
For service call 812 297-3048
ShuBee Products, Vanderburgh County, In Posey County, In Warrick County, In Henderson County, Ky Evansville, In Newburgh, In Boonville, In Mt Vernon, In New Harmony, In Wadesville, In Princeton, In Ft Branch, In Henderson, Ky available on truck in these area's